Spend Less Time Mopping!
See How Easily You Can Mop Faster & Easier With No Drips, No Streaks, No Mess.
Learn How To Use Your Hurricane Spin Mop
Quick Tip Video
Here's a quick tip to make sure your Hurricane Mop is performing optimally. If you have any questions, check out the Instruction Manual below or visit the Frequently Asked Questions page to find out more.
---
Instruction Manual
Having trouble viewing the instructions below? Please download the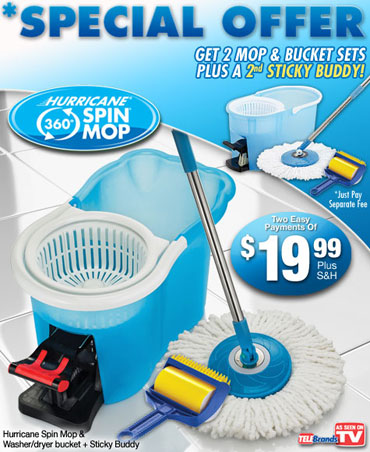 *Special Offer - Two Easy Payments of $19.99 plus Shipping & Handling. Get 2 Mop & Bucket Sets Plus a 2nd Sticky Buddy. Just Pay Separate Fee.
Order the Hurricane Spin Mop with the Sticky Buddy lint roller for just two easy payments of $19.99 plus $12.99 shipping and handling, conveniently added to your first payment. We are also including an opportunity to add the *SPECIAL OFFER second Hurricane Spin Mop and Sticky Buddy for a *Separate Fee of just $19.99. This special Hurricane Spin Mop offer is not available in stores so the only way to get it is to place your order now!